Professional Shop Cleaners
Maintaining a clean and hygienic environment is essential for every shopping centre. Not only does it create a positive impression on visitors, but it also contributes to a safe and healthy shopping experience. In this article, the professional cleaners at Total Focus Cleaning, a leading commercial cleaning company working throughout Brisbane, Sydney, and Melbourne, will guide you through the process we use. With our expert help, centre managers can ensure their facility remains pristine and inviting to customers.
Benefits of Expert Shopping Centre Cleaning
Effective cleaning practices offer numerous benefits to shopping centres. Firstly, a clean environment enhances the overall aesthetic appeal, making a positive first impression on customers. It creates a welcoming atmosphere that encourages customers to stay longer and return in the future. Additionally, a clean shopping centre helps prevent the spread of germs and reduces the risk of illnesses, promoting a healthier environment for both customers and staff.
Shopping Centre Cleaning Essentials
To maintain a consistently clean shopping centre, it's important your cleaners establish a comprehensive cleaning checklist. This includes regular tasks such as cleaning floors, washing windows and glass surfaces, dusting fixtures, and sanitizing restrooms. Additionally, high foot traffic such as entrances areas should receive extra attention, with frequent cleaning and disinfection to minimize the buildup of dirt and germs.
Custom Designed Retail Cleaning
Every shopping centre has its own unique cleaning requirements based on its size, layout, and specific design. Collaborating with a professional commercial cleaning company, such as Total Focus Cleaning, ensures your individual cleaning needs are thoroughly understood and catered to. Our experienced cleaners will assess your shopping centre cleaning requirements and develop a customized plan. This way, our commercial cleaners can properly address specific challenges and help maintain a high standard of cleanliness.
Shopping Centre Cleaning Services
Large shopping centres encompass a vast expanse of space, necessitating a comprehensive range of cleaning services to maintain their cleanliness and appeal. The essential cleaning services Total Focus Cleaning offers to our major clients include:
Bathroom Cleaning:
Maintaining clean and hygienic restrooms is crucial for providing a pleasant shopping experience to customers. Regular cleaning of toilets, sinks, mirrors, and floors is essential to ensure cleanliness and prevent the spread of germs.
Food Court Cleaning:
Food courts are bustling areas with high foot traffic and significant potential for messes. Proper cleaning of food court seating areas, tables, countertops, and floors is essential to maintain a clean and inviting environment. Regular and thorough cleaning is required to prevent the buildup of food debris, spills, and bad odors.
Administrative Office Cleaning:
Administrative offices within shopping centres require regular cleaning to ensure a tidy and organized workspace for staff. This includes dusting surfaces, cleaning desks, sanitizing keyboards and phones, and emptying rubbish bins.
Window Cleaning:
Clean and sparkling windows enhance the overall appearance of a shopping centre. Regular window cleaning helps maintain a bright and welcoming atmosphere, allowing natural light to flow in and improving the aesthetic appeal of the facility.
Surface Cleaning and Dusting:
Routine surface cleaning and dusting are essential to keep your shopping centre clean and free from dust, dirt, and allergens. This includes dusting shelves, displays, and fixtures, as well as wiping down surfaces to maintain a polished and tidy appearance.
Outdoor Cleaning:
Outdoor areas and gardens within the shopping centre also require attention. This includes regular cleaning of walkways, entrances, parking lots and outdoor seating areas. Removal of litter, sweeping, and pressure washing may be necessary to keep these areas clean and inviting.
Equipment Cleaning:
Various equipment, such as escalators, elevators, and handrails, need regular cleaning to ensure cleanliness and safety. Specialized cleaning techniques are employed to maintain the functionality and appearance of these essential components.
Having one commercial cleaning contractor to handle all these needs and more is crucial because it allows you to prioritize areas that require the most frequent attention. By identifying high-traffic and high-mess areas, such as food courts, Total Focus Cleaning can allocate additional resources and schedule more frequent cleaning services to maintain cleanliness and address area specific challenges effectively.
Shopping Centre Deep Cleans and Specialist Cleaning Services
Efficient cleaning requires careful consideration of timing. It's important to strike a balance between minimal disruption to customers and staff while ensuring the best clean. Scheduling cleaning tasks during off-peak hours, such as early mornings or after closing time, can help minimize disruptions and maintain a seamless shopping experience for customers.
Additionally, regular cleaning tasks should be supplemented with periodic deep cleaning and sanitation practices. This includes steam cleaning carpets, deep cleaning of high-touch surfaces, sanitizing such as escalator handrails and thorough disinfection of food courts and seating areas. Partnering with a professional cleaning company such as Total Focus Cleaning ensures access to specialized equipment and knowledge for effective deep cleaning and sanitation.
Also, many areas in shopping centres require specialized cleaning techniques. This includes cleaning delicate or expensive surfaces like marble, granite, or glass features, as well as maintaining the cleanliness of escalators and elevators. The professional shopping centre cleaners at Total Focus Cleaning are trained to handle these unique cleaning challenges, utilizing industry-approved methods and cleaning agents to preserve their condition and appearance.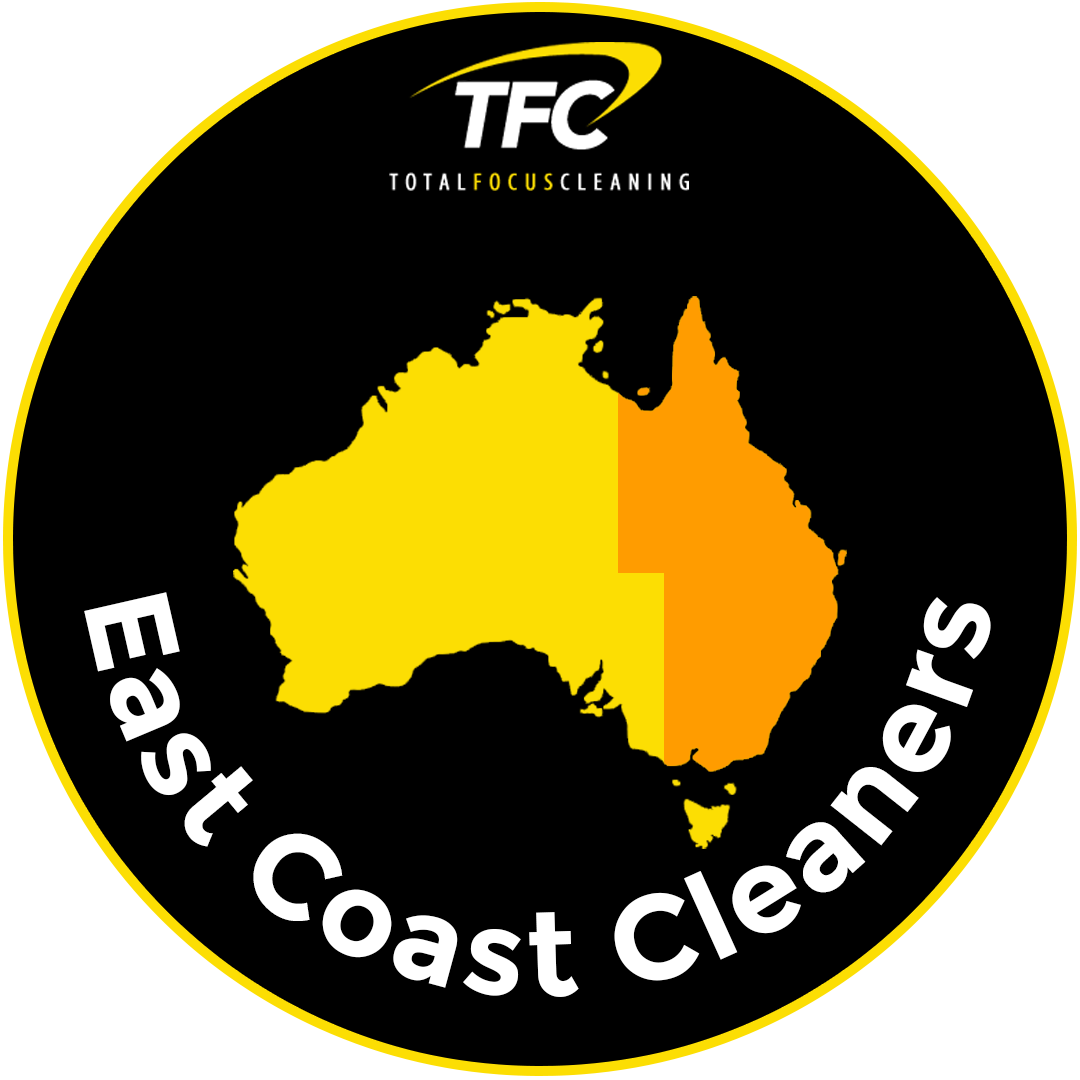 Contact Total Focus Cleaning Today!
Maintaining a clean shopping centre is key to providing customers with the best retail experience. It fosters a positive perception of your facility, leading to increased customer satisfaction and loyalty. By partnering with a professional commercial cleaning company like Total Focus Cleaning, you can ensure that your shopping centre is impeccably clean and inviting, leaving a lasting impression on customers.
Total Focus Cleaning has a large team of over 650+ experienced cleaners and operate right down the entire east coast including Brisbane, Sydney and Melbourne. Our professional commercial cleaners have the knowledge and expertise to deliver exceptional cleaning results. As large site and multi location shopping centre specialists, we are available for immediate deployment 24/7.
Contact our friendly team today on 1300 502 226 or email sales@totalfocuscleaning.com to book a free site visit and competitive quote.
Invest in professional cleaners to enhance your shopping centre's cleanliness and provide an exceptional retail experience to your customers today.