Professional Commercial Cleaners
Total Focus Cleaning has helped hundreds of businesses with their office cleaning services. Our teams have years of experience at delivering cost-effective commercial office cleaning to facilities all along the Eastern Seaboard including Sydney, Melbourne and Brisbane. Our employees work hand in hand with our valued clients and our dedicated site manager ensures every cleaning schedule runs like clockwork. It's no secret that when your office and facilities are clean, your workers can simply get back to business as usual! That's where the professional office cleaners at Total Focus Cleaning can help. Please give our friendly team a call on 1300 502 226 or email sales@totalfocuscleaning.com now to discover how we can give you a cleaner office and help you cut costs at the same time.
The commercial cleaning plans carefully created by our experienced teams offer an effective solution to improving the hygiene and presentation of your office whilst actually adding value to your business. We individually tailor our facility cleaning services to the specific needs of your property and we aim to exceed your expectations every time so staff are happy and productive and your customers get a great first impression. You can place your confidence in our professional office cleaners and rely on us to simplify the management of cleaning at your building. With our help, managing office cleaning tasks will be one less thing you have to worry about. If you're tired of unprofessional office cleaners who always let you down, it's time you give us a call. You can reach us on 1300 502 226 or email us at sales@totalfocuscleaning.com 24 hours a day!
Professional Office Cleaning Company
When it comes to getting the best results from your building cleaning services, the most important considerations are reliability, consistency & experience. By getting these factors right every time, we have been able to create long lasting partnerships with our valued customers throughout the country including at large sites in major cities such as Brisbane, Sydney and Melbourne. Our staff of over 650 expert commercial cleaners are highly trained with the know how to provide superior quality service on every job. Not matter what industry your business operates in, our broad breath of experience ensures we're able to cater to your commercial cleaning needs on-time and within budget. For quality-controlled office cleaning services backed up by certified audit systems, please get in touch with Total Focus Cleaning on 1300 502 226 and let us exceed your expectations!
Our position as a leader in the Australian office cleaning industry is a result of our focus on innovation and customer service excellence. Added to decades of combined experience and the most efficient cleaning techniques, it's easy to see why more and more companies are choosing us to fulfil their commercial office cleaning contracts every day. Our highly experienced teams' attention to detail is second to none and our reputation has been built over years of hard work. We have partnered with a broad range of businesses around the country including smaller to medium sized offices to multi-level office complexes so you can be sure we have the capabilities to handle your facility's cleaning needs – no mater how complicated. Whether your business requires implementation of a regular office cleaning service or a one-off deep clean, Total Focus Cleaning delivers every time. To arrange a complimentary site visit and obligation-free quote, please give us a call on 1300 502 226 or email sales@totalfocuscleaning.com today!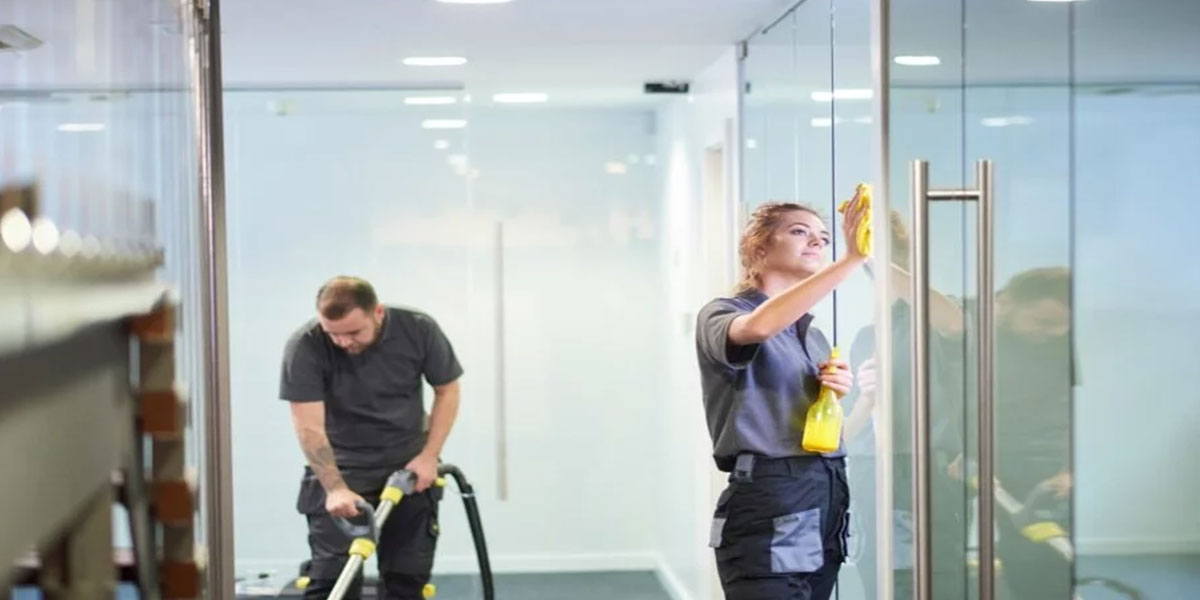 Affordable Office Cleaners
Total Focus Cleaning are more than just the ordinary office cleaning company. Not only do we take care of all your routine commercial cleaning requirements, our employees also assist our clients with special requests and one-off cleaning services. We're excellent at doing all the regular office cleaning jobs such as vacuuming, emptying bins and wiping desks as well as cleaning toilets and bathrooms. Our teams also clean all common areas, corridors, car parks, lifts, stairwells and lobbies to ensure your customers and guests get the right impression and your facility shines. More than that, we also excel at deep cleaning assignments such as carpet and upholstery cleaning, window cleaning, steam cleaning, high pressure and car park washing, as well as COVID cleaning and sanitising. Get in touch with one of Australia's most efficient office cleaning companies today by calling 1300 502 226 or emailing sales@totalfocuscleaning.com.
Our Office Cleaning Service Promises
Our cleaners will turn up on time every time without exception.
All areas of your facility and office will be cleaned thoroughly to the highest standards – every time.
We will assign a dedicated site manager and you will be able to contact us any time of day or night.
We will provide you with the best value cleaning services tailored to your needs.
Total Focus Cleaning has expertly trained teams of specialist covid-19 cleaners ready for immediate deployment in all major cities along the east coast including Melbourne, Brisbane and Sydney. Our Coronavirus disinfection cleaning services are the perfect preventative measure to protect the health and welfare of your staff and customers. If there's already been confirmed cases of COVID-19 at your premises, please contact us straight away on 1300 502 226 and we'll send out one of our professional decontamination teams. Our rapid response teams are available 24/7 for all emergency COVID cleaning assignments so please don't hesitate to contact us and we'll have your business operating as usual again within hours.
Our Office Cleaning Process
Why Choose Our Office Cleaning Services
Contact Total Focus Cleaning Now
With so many reasons to choose us, the decision is simple. Don't risk the productivity and health of your staff or leave a bad impression on customers. Instead, get in touch with Total Focus Cleaning today and enjoy the most reliable, efficient and cost-effective commercial office cleaning services.
Please contact us on 1300 502 226 or email sales@totalfocuscleaning.com today!