School Deep Cleans These Holidays
Total Focus Cleaning provides school cleaning services to many education campuses all along the east coast of Australia in Queensland, New South Wales and Victoria. Whilst the vast majority of our clients in the education industry use our school contract cleaning services for term time cleaning then opt for a school holiday deep clean during the breaks. Although the recommended time time allocated to the school deep clean varies according to campus size, we usually recommend between 1 and 2 weeks for the best results.
Total Focus Cleaning are often asked by our clients what a school deep clean looks like, so we've put together the information below to help you.
The best time to undertake deep cleaning services is when your school buildings are empty and free of students. However, all of our services are completely flexible and we can work around vacation care and other people on site. That said, we do ask all clients to book their campus cleaning service in as soon as possible to secure a slot. Please note, the last week of school holidays is usually the most popular time so it's good if you can get in before then. All said and done, we'll still have availability and will be able to accommodate your schedule. We can even schedule your deep clean to take place after any maintenance work has been completed on site.
Importance of School Deep Cleaning
With all your students' feet running up and down corridors and going in and out of classrooms, schools can accumulate large amounts of dirt and debris throughout the study term. Additionally, toilets, staff rooms, canteens and office equipment also get dirty simply due to the number of people using them over such a long time. Besides the visible dust and dirt that gives your campus an bad look and can ruin your school's reputation with parents and visitors, hidden germs and bacteria can represent serious health hazards to staff and students alike. Coming out of the colder weather is also a well-known time for children to get sick and the peak time for disease to spread. Furthermore, in densely populated and closed environments like schools, colleges and universities dust can accumulate in carpets which has the potential to trigger allergies and asthma. Therefore, It's essential to deep clean your school thoroughly to protect the wellbeing of all on campus.
However, with only limited amounts of time for extensive cleaning during study periods, it's always best to take advantage of your empty school buildings over the term breaks to book a deep cleaning service. Total Focus Cleaning can help ensure that every corner of your school is clean and hygienic ready for when your students return after their break. To book a deep cleaning service, please contact our friendly team on 1300 502 226 or email sales@totalfocuscleaning.com now.
What Does a Deep Clean at a School Look Like?
When you contract Total Focus Cleaning to conduct your school deep clean, you're guaranteed the highest quality and most thorough commercial cleaning services available.
School Toilet Deep Cleans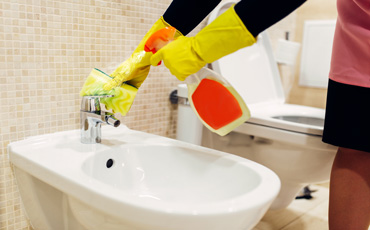 Positive Impacts of Deep Cleans
A neat and tidy school creates the healthiest learning environment for students as well as improving the reputation of your school itself. Some benefits of school deep cleaning, includes:
School deep cleans are essentially an intense clean of your campus with 1-4 weeks of cleaning all done at the same time. We have over 650+ staff across 3 states with specialist experience to ensure your school receives the highest quality. Since deep cleaning of a school is different to a regular daily clean, we'll send out a onsite manager to make sure all health and safety regulations are being followed and all cleaning standards are met or exceeded. With students and the majority of teachers enjoying some time away from the classroom, now is the best time to organise a school deep clean to prepare for next term. Total Focus Cleaning are private school education cleaning specialists with decades of combined experience creating healthier students and happier staff.