Commercial Cleaning Outsourcing Benefits
Cleaning your premises is a top priority for every company. It's not always easy to keep a business's commercial property clean and presentable.
Due to tight budgets and constant need to reduce costs, many businesses are looking at how to best handle their cleaning. Outsourcing your cleaning services is a smart way to reduce expenditure. In addition to saving money, the quality of cleaning will be improved and you'll minimise the workload on current staff.
The important thing is to find a commercial cleaning company that can help you maintain your business cleaning while also reducing your operational costs. Most people think that hiring a cleaning service will add costs when in fact the opposite is true.
Advantages of Outsourcing Commercial Cleaning
There are many reasons for outsourcing your commercial cleaning services, the key ones being:
Free Up Time By Outsourcing Your Cleaning
A lot of facility managers have tight schedules. Offloading cleaning to an established company is a Godsend when you have many other responsibilities. Working with an efficient commercial cleaning company with robust compliance systems such as Total Focus Cleaning, frees up your time and energy for other more important tasks.
However, the cleaning service you choose must meet the unique needs of your business to fully enjoy the benefits of outsourcing. Do your research before you hire a cleaning company by looking at online reviews as well as their website and social media.
With the right company human resource management complexity will be reduced and you'll be able to focus on what you do best instead of worrying about facility upkeep. Please contact us on 1300 502 226 or email sales@totalfocuscleaning.com for a confidential discussion of your cleaning needs and to see how we can help you simplify your facility maintenance.
Access Specialist Commercial Cleaning Services
Using regular personnel to carry out your cleaning will almost always result in unfinished or subpar work and a possibly increases in employee dissatisfaction. A dirty workplace and a dissatisfied workforce are nearly always the outcome of having your staff handle the cleaning. In addition to this, the quality of cleaning may decline along with employee morale.
Your company will also benefit from outsourcing your business cleaning services to Total Focus Cleaning as we can cut cleaning time and increase the efficiency whilst not cutting corners.
Improve Cleanliness With Professional Cleaning
Your facility's cleanliness and upkeep should be left to experts in commercial cleaning services. Cleaning your building using your own staff isn't always a good idea when it comes to quality, cleanliness and hygiene. With so many things already competing for your attention, cleaning is one of those tasks best left to the experts and the best option for keeping your premises neat and tidy is to outsource your cleaning to a competent and professional commercial cleaner.
At Total Focus Cleaning, we have a team of over 650 specialist cleaners available for event the most demanding cleaning schedules. Operating right along the eastern seaboard 24 hours a day, 7 days a week, we can help your business with regular routine cleaning, deeps cleans and a variety of other specialised cleaning services. Please contact us on 1300 502 226 or email sales@totalfocuscleaning.com today to see what we offer and how we can meet your cleaning needs.
Save Money On Cleaning Supplies
The costs of cleaning products, equipment and supplies required when using in-house cleaners can quickly add up. Instead of purchasing the all yourself, outsourced cleaning services can manage that all for you. As a result, your business will reduce costs whilst still having access to high-quality cleaning products and supplies. With supply and stock management issues being a major concern for many facilities, this in itself is a great reason to make the change.
Not only will you significantly reduce money spent on cleaning supplies and equipment, you'll also save a lot on human resource tasks such as recruitment, screening and training as we handle all of these administrative tasks for you.
Enjoy COVID Safe Cleaning Practices
Another reason to outsource to professionals are the special requirements of COVID-19 cleaning. As the pandemic continues to be a real threat to the operations of many businesses, in-house cleaning staff may not be familiar with the latest Health Department guidance and disinfection procedures. Specialist training is required to train staff in COVID sanitation cleaning and you can avoid these expenses by hiring the expert cleaning contractors at Total Focus Cleaning who are already highly skilled familiar with COVID Cleaning. To discuss your COVID cleaning needs, please call us today on 1300 502 226 or email sales@totalfocuscleaning.com to arrange a site visit and obligation-free quote.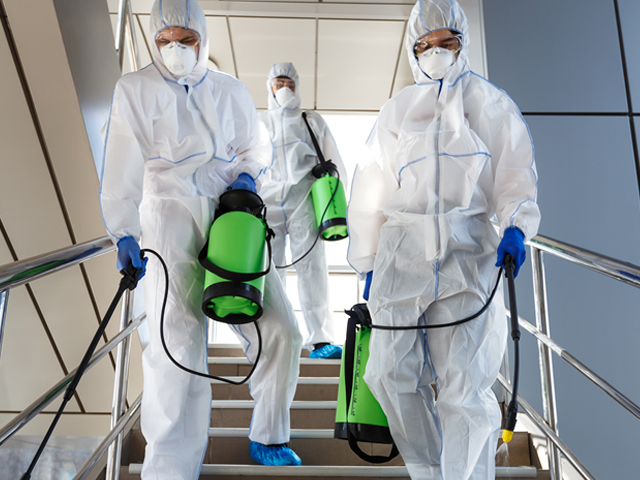 Outsource Your Commercial Cleaning Today
To get ensure your premises is cleaned professionally, it's always best to hire specialist commercial cleaners as you'll reduce costs and management complexity, letting you focus on your core business activities. Enjoy increased staff productivity and improved customer experiences with a clean facility.
If you are looking for a reliable and professional partner to take care of all your commercial cleaning requirements, call us today at 1300 502 226 or email us at sales@totalfocuscleaning.com.au. Our team will be happy to help you manage all your commercial cleaning needs.