What is Fogging Cleaning?
Is It Still Necesary To Fog Your Workplace?
Previously, conducting a deep office clean through fogging was viewed as a severe solution especially used in only a minority of commercial cleaning situations. Although fogging applications were not used in regular commercial cleaning routines, the outbreaks of COVID-19 changed all that.
With the requirements for COVID deep cleaning, conducting fogging of office spaces and other workplaces became more popular as a method to stop Coronavirus spreading. With the COVID virus being transmitted through the air and surviving on surfaces for up to 3 days commercial fogging cleaning was just what the doctor ordered. With the widespread concern around COVID safety, commercial cleaning companies saw a sharp increase in clients requesting fogging applications after the outbreaks in 2020.
However, there is still a lot of mystery surrounding cleaning using fogging. What is fogging actually? Does it present any risks to people, furniture or computers? Should I still use fogging as a precaution now even though lockdowns and the COVID pandemic has passed?
In this blog, Total Focus Cleaning provide more information about fogging to dispel common misunderstandings. After reading this article, you think your business could benefit from a commercial fogging application, please contact us on 1300 502 226 or email sales@totalfocuscleaning.com today!
Put simply, fogging is a method of disinfecting enclosed areas using a "fog" consisting of disinfectants. Our commercial cleaners wear protective clothing and special respirators then disperse the fog using advanced spray guns.
When fogging, the office or rooms are filled with a very fine mist spray of disinfectant which spreads around like a fine mist. Believe it or not, fogging has been frequently used in many other industries for a long time such as in food production. Fogging applications are extremely effective as sanitizing enclosed areas and is much quicker than disinfecting surfaces individually by hand.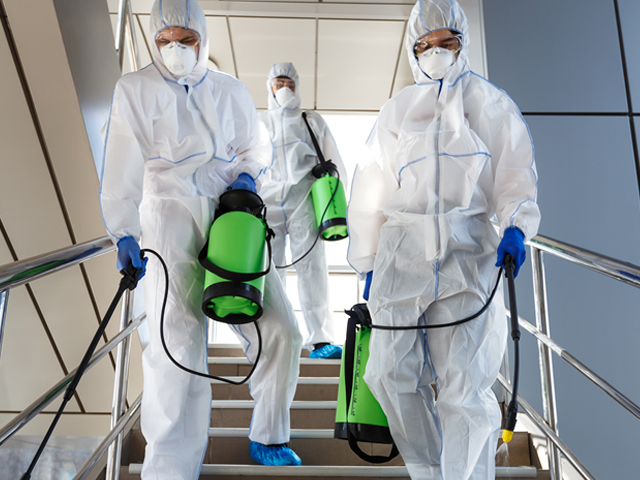 How does Fogging Actually Work?
The application of fogging can be done in a number of different ways. For example, some factories needing regular deep cleans have fixed fogging systems installed that put out a fog on a timed basis. However, at premises that don't need as regular fogging services, disinfecting is usually done by a mobile fogging device. Mobile fogging should always be performed by trained and experienced commercial cleaners. It's essential they also wear all necessary personal protective equipment (PPE) such as a mask, certified breathing apparatus, gloves and a body suit.
Mobile fogging generally takes up to half an hour to complete however this really depends on the size of the space being disinfected. Post-fogging, airborne disinfectants can take up to an hour for the fine mist to settle on surfaces. Occasionally, settled residue should be wiped down, however this also depends on the type of disinfectant applied.
During the fogging cleaning process, your building will need to be vacated for up to 6 hours because the fog needs to completely evaporate before staff and customers come back into your premises.
Before the Coronavirus outbreaks, fogging had been safely applied to sanitize and disinfect for many years across many industries with only germs suffering negative effects. That said, fogging should still be performed by trained professional commercial cleaners with all safety precautions and WH&S guidelines abided by.
Despite all the benefits of fogging as an effective deep cleaning strategy, it may still be necessary to give your space a clean prior to application. Fogging should be combined with a regular manual clean as it is not a "silver bullet". This is especially true where your premises has sensitive electrical equipment, immune-compromised people or young people and animals.
It's important to remember that fogging itself is not a substitute for cleaning but is instead a disinfection tactic. Therefore, to avoid disinfectants being applied to dirty surfaces, it's essential to conduct a thorough clean before which ensures no microbes can hide under grime or dust.
You'd be excused for thinking that fogging is no longer necessary given all lockdowns have been lifted and life is back to normal again. However, fogging in your office or business isn't necessarily a thing of the past. You may be asking yourself if you should still fog disinfectants in your workplace. The answer will depend on your business type, frequency of regular commercial cleaning and how many staff are working from home or at your premises.
Whether or not you decide to go ahead with a fogging treatment to disinfect your workplace is now a more individual decision. However, regular through commercial cleaning should be non-negotiable. To protect your customers and increase staff productivity, Total Focus Cleaning strongly recommends instituting scheduled cleaning routines. Make a great first impression and improve presentation with our help by calling 1300 502 226 or emailing sales@totalfocuscleaning.com today!
Enjoy a Cleaner Workplace Today!
Total Focus Cleaning are professional commercial cleaners with many years of experienced helping our clients protect their business assets, boost employee productivity and impress their visitors. With a large team of more than 650 trained commercial cleaners ready for immediate deployment, we operate right along the east coast. Our 24 hour commercial cleaning services are extremely cost-effective and can reduce your property maintenance costs whilst improving the overall level of cleanliness and hygiene at your premises.  Please call us on 1300 502 226 or email sales@totalfocuscleaning.com today to arrange a complimentary site visit and obligation-free quote.