How to Cut Pub and Club Cleaning Costs?
Australia is blessed with some of the best pubs and finest watering holes in the world. No matter whether you're in Brisbane, Sydney, Melbourne or anywhere else around our beautiful country, you're sure to be able to find a great place to have a good meal and a cold one. However, as a business owner, keeping on top of your cleaning costs can be a challenge. If you trying to reduce the amount your establishment spends on cleaning, then read on. We've put together this list on how to reduce the commercial cleaning costs so you can enjoy a cleaner premises for less.
Total Focus Cleaning offers competitively priced commercial cleaning services throughout Queensland, New South Wales and Victoria 24/7 so if you'd like a competitive quote on maintaining the cleanliness and hygiene at your club, please don't hesitate to contact us on 1300 502 226 or email sales@totalfocuscleaning.com for a confidential discussion and to arrange a site visit.
Reducing Commercial Cleaning Costs
Keeping a pub or club clean is vital for maintaining a good reputation and ensuring the health and safety of your patrons. Additionally, with the strict hygiene regulations legislated throughout the country, it's essential your pub or club is as clean as possible. However, without adequate oversight and monitoring, the costs of contracting commercial cleaning services can add up quickly, eating into the profits you make. Luckily, there are several simple methods available to reduce the amount of money you spend on commercial cleaning without sacrificing cleanliness or hygiene. Below are some useful tips Total Focus Cleaning recommend to all our clients to help pubs and clubs slash cleaning expenses.
Choose a Suitable Cleaning Schedule
The first and most important step in reducing commercial cleaning costs is to ensure that you have an efficient cleaning schedule in place. In layman's terms, this translates as identifying the areas used the most that need the highest frequent cleaning. These locations can then be prioritised for regular cleaning. For example, high-traffic areas such as the bar, restrooms and dining areas need to be cleaned throughout the day. Other less frequently used areas such as storage rooms and cellars can be cleaned less often. Creating a cleaning schedule that focuses on the most important and busiest areas, ensures that cleaning staff are working efficiently and effectively whilst not wasting valuable time and money on less important tasks.
Another effective way to decrease commercial cleaning costs is to make sure your staff are properly trained in cleaning techniques. By providing your employees with training on how to clean efficiently, you can reduce the amount of time it takes them to clean your pub or club. This will not only save you money on cleaning costs but will also help to ensure that your establishment is always clean and hygienic as staff are ever-present.
Another way to save money on commercial cleaning costs is to reduce the amount of consumables used. For example, by reducing the amount of paper towels used in restrooms by installing air dryers, you could save a significant amount over the long term. Another key area to save money on consumables is by using reusable cleaning cloths instead of disposable ones. Additionally, purchasing cleaning chemicals and products in bulk can result in significant savings.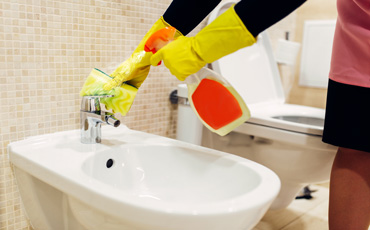 Take Advantage of Preventative Measures
Prevention is always better than cure as they say. This also holds true for cutting commercial cleaning costs. Taking simple measures to keep the general cleanliness and hygiene of your property at a higher level, is an important step in reducing the time it takes to maintain your facility. For example, the simple practise of using doormats at key entrances throughout your establishment can have a major impact on the amount of dirt tracked in. Also, installing hand sanitizer stations to reduce the spread of germs can be an effective method to protecting your guests and keeping your pub or club hygienic. Additionally, using coasters and table runners can reduce the amount of table cleaning required. These simple preventative measures can help save you serious money on cleaning expenses whilst also helping uphold the reputation and presentation of your club.
Outsource Your Commercial Cleaning
If you find that your in-house cleaning costs are still too high, it may be worth considering outsourcing to professional commercial cleaning contractors. While this may seem counterintuitive, outsourcing is actually a cost-effective solution. Dedicated commercial cleaning companies have the equipment, expertise and manpower to clean your pub or club in the quickest and most efficient ways. They also have access to wholesale cleaning products, which can be cheaper than buying them yourself. By outsourcing your cleaning, you can save money on labour costs, reduce your cleaning expenses, and ensure that your establishment is always clean and presentable.
Contact Total Focus Cleaning
As a professional commercial cleaning company specialising in pubs and clubs, Total Focus Cleaning have the experience, manpower and skills to help you keep your premises in tiptop condition. We are also triple ISO certified meaning you'll receive the highest quality services from one of Australia's leading commercial cleaners. Our teams operate right along the east coast, including in capital cities like Sydney, Melbourne and Brisbane. With 24/7 commercial cleaners available, we can work according to a schedule that suits your unique business needs.
For the very best commercial cleaning services, please contact us today on 1300 502 226 or email sales@totalfocuscleaning.com to book in a time for a complimentary site visit.
We look forward to serving you and your business.